In 2011, with just a case of beer and a couple of pizzas, Tech in Motion was founded with the goal of bringing local tech communities together to share ideas and inspire one another. For 10 years, Tech in Motion has been dedicated to recognizing tech leaders and companies with an unwavering commitment to flourishing in an ever-changing industry.
In 2022, in celebration of 10 years of bringing the tech community together, Tech in Motion continues to march towards those goals, complete with a revamped website, new features, and an overall aesthetic that we believe our community of over 300,000 technologists will love.
What's New at Tech in Motion:
Expanded Tech Hubs
Get the latest news, insights, and information on the topics you care about most, all in one place. Tech in Motion now has 8 tech hubs where communities can come and stay current on the tech topics that are at the top of their mind. Watch webinars from experts in your field or learn about companies across North America, from fast-growing startups to the biggest enterprise companies in the world.
Tech Job Board, Powered by Motion Recruitment
For those in the tech world looking to make the next step in their careers, Tech in Motion is now here to help. Partnering with our founders, Motion Recruitment, Tech in Motion's Job Board has thousands of open positions available in a variety of specialties across the world of tech. Whether you're looking for contract roles or permanent placements, in office or remote, this new job board will help you find the role that's right for you.
Additionally, for those looking to hire quality tech talent, Tech in Motion's partnership with Motion Recruitment is a valuable resource to help you save time during the search process along with learning the latest hiring trends in the industry.
More Networking Opportunities than Ever Before
As Tech in Motion has grown from meetups inside a conference room to the worldwide community platform it is today, the ways we help the technologists utilize our platform has grown as well. While we plan to begin to return to in-person events across North America (make sure to follow up on social media for updates to stay up to date on the latest news and updates), we also have made it easier for those in our community to meet and exchange ideas. Tech in Motion's Discord channel is open to all who are interested in networking, and our interactive virtual events let those in attendance ask questions to our experts that will be answered live on air.
With this increased focus on community, Tech in Motion is now the place you can go to meet potential mentors, tech talent, or investors.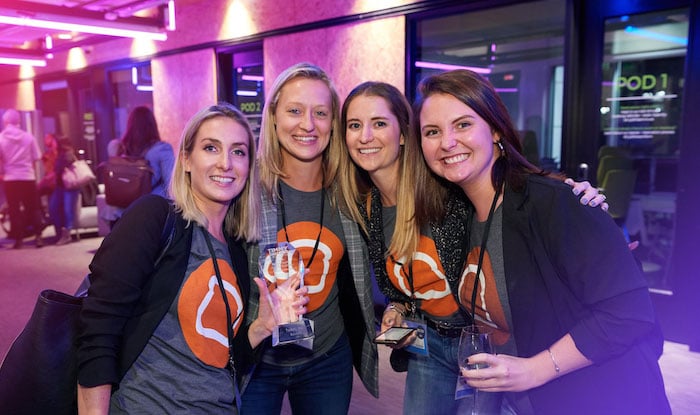 Timmys 2022: Bigger and Better than Ever
The 8th Annual Timmy Awards Ceremony promises to be the biggest one yet. After the success and overwhelming positive feedback of our 2021 show, the 8th Annual Timmy awards will once again be an entirely digital affair on November 10th. Technologists across North America and all over the world will be able to come together from the comfort of their own homes or offices to celebrate the very best in tech.
With nominations open till September 9th, the 2022 edition of the Timmy Awards brings the return of the Best Tech Workplace for Diversity award, which recognizes companies that treat diversity as a necessary ingredient for creativity and success. This is in addition to the five awards from last year: Best Tech Enterprise Employer, Best Tech Work Culture, Best Tech for Good, Best Tech Startup, and Best Tech Manager.
Read More: Nominations are Open for the 2022 Timmy Awards!
Fun, Unique, Exciting Events Across all Technologies
Tech in Motion prides itself on bringing in voices from all across tech to share the expertise and insights from their particular skill set, and these informative sessions will continue. Recent events have discussed topics like NFTs and cyber security in the world of Web3, along with panels on Conversational AI and Cloud Migration, and an AMA about the essential skills needed to succeed in UX Design. Other events focus on the social issues the tech world is focusing on both internally and externally, with a conversation on how to address Diversity and Inclusion in Tech, and how the tech industry is the key to a sustainable future.
Upcoming events include a Startup Pitch Off, where up-and-coming companies will present to a live audience along with venture capitalists and Timmys Award judges, with only one company claiming the title "Top Startup to Watch," and the aforementioned 2022 Timmy Awards.
Tech in Motion has made all these updates and events for one reason: to better serve our tech community. To that end, let us know what you think! Feel free to contact us with any questions or feedback, or if you want to be more involved in the Tech in Motion community. For over 10 years, we've been proud that so many technologists use this space to further their knowledge and careers, and we hope the new and improved Tech in Motion will be your go-to source for years to come.