2022 Timmy Awards Finalists
Meet this Year's Award-Worthy Individuals and Companies
2022 Finalists Have been announced
Let's Meet this Year's Best in Tech!
With hundreds of nominations coming in from across North America, the 2022 Timmy Awards are primed to be our biggest edition ever. The nominated companies and individuals have gone above and beyond this year, showcasing their innovation and ability to adapt to an ever-changing landscape.
Read up on this year's finalists in your city
The 2022 Best Tech Startup award recognizes companies built by forward-thinking leaders with a product or service that aims to disrupt the market. Nominees in this category exemplify agility, innovation and resilience, as well as an ability to foster an outstanding work environment for its employees.
Atlanta
Allbound
ConnectALL
Stord
Boston
Akeneo
C. Light Technologies
ChaosSearch
Diesel Labs
Fairmarkit, Inc.
Hopper
Pepper Bio
Rocket VR Health
SpotOn Fence
Stavvy
Takeoff Technologies Inc.
Chicago
BUNDLAR
Cohesion
Improovy
LogicGate
Valqari LLC
Dallas
ClearDATA
StackPath
TekRevol
Upshot.ai
New York
Beagle Drones
ChargeAfter
Gloat
Lawtrades
QuickFi (Innovation Finance USA)
Synop
Virtual Tables
Wallaroo Labs
Wisdo
Philadelphia
Crossbeam
HealthVerity
QuotaPath
San Francisco
Blendid
Bolster AI
Clockwise
Doorstead
DuploCloud Inc.
Elevate Security
Frameplay
HoneyBook

(Continued)
Hubilo Technologies Inc.
Memfault
Middesk
Pixlee TurnTo
Replicant
Retool
Vulcan Cyber


SoCal
AdQuick
Audio Design Desk
BlastWave
BlazePod
CSAT.AI
Epirus
Flawless AI
GitKraken
Inspire Clean Energy
Movandi
Toronto
Cohere
Elentra Corp
Jeeves
Jobber
ManageBetter
Monsters Aliens Robots Zombies (MARZ)
Nobul Technologies
Noibu
ThinkData Works
Xandar Kardian
Washington D.C.
Digibee
Epirus
Goodshuffle Pro
ID.me
Jeenie
Kamsa
RegScale
ThreatQuotient
Upside
WeGro Data, Inc
A 2022 Best Tech Manager personifies leadership, innovation and positive influence. This award celebrates technology leaders and visionaries who go beyond the requisite duties of a manager to empower their team in a changing world. This person promotes career growth, ensures a great team culture, inspires performance, and successfully leads their team through unexpected territory, all while ensuring the highest quality product and/or service.
Atlanta
Indu Narayan, Yieldmo
Steve Ardis, Banayan Hills Technologies
Sujata Devraj, M3
Boston
Bob Buffone, Yottaa
Eric Amodio, GitKraken
Fabienne Hansen, Rue Gilt Group
Jeremy Allaire, Circle Internet Financial
Thomas Hazel, Chaos Search
Chicago
Craig Lurey, Keeper Security
Deepak Gaddipati, VirtuSense Technologies
Ieshe Washington, SpotHero
Mohit Gupta, CDK Global
Ryan Walsh, Valqari LLC
Dallas
Christopher Russell, tZERO Group
Poppy Coutinho, T-Mobile
Rishi Khanna, ISHIR
New York
Ali Mehmani, Prescriptive Data
Arylee McSweaney, Etsy
Muldair Welch, Tackle.io
Nicole Becher, Google
Sonu Panda, Prescriptive Data
Philadelphia
Chris Bell, FullThrottle
Julia Kastner, NeuroFlow
Sumandeep Kaur, Odessa
San Francisco
Dr. Akhil Sahai, Kanverse.ai
Bud Broomhead, Viakoo
Guohui Wang, Jerry
Katie Madding, Adjust
Kevin Connole, Fivetran

(Continued)
Krishna Nadiminti, Twitter
Paul Dsa, MyVest
Rebecca Yang, Clearbit
Renato Iten, Open Systems
Rico Mok, Poplar Homes


SoCal
Aaron Craig, Fashion Nova
Cody Chandler, BlackLine
Haley Dukelow, Vitalacy
Jessica Yang, Boundary Devices
Scott Bledsoe, Theon Technology
Toronto
Amanda Pardy, Top Hat
Nik Shenoy,

Orium

Rodrigue Hajjar, Cohere
Washington D.C.
Doug Golub, MediSked
Eric Schultz, Capital One
Grant Elliott, Ostendio
Does your company or manager deserve
recognition as next year's best in tech?
Register your interest to be the first to hear when nominations open in 2023!
Best Tech Workplace for Diversity
This award recognizes a company that treats diversity as a necessary ingredient for creativity and success. Recipients of this award are determined to build and sustain an inclusive culture from the top down, encouraging employees to bring their authentic selves to work every day. They have active strategies, programs, and initiatives in place to ensure a diverse and inclusive tech work culture. They implement strategic hiring practices, explore and celebrate team member differences, encourage diverse thinking to produce an innovative product an/or service, and promote diversity at all levels of the organization.
Boston
Circle Internet Financial
Snyk
Zebra Technologies
Chicago
Arity
Backstop Solutions Group
Clarity Partners
SADA
Tandem
San Francisco
Branch Metrics
CareMessage
CNote
OLogic, Inc.
Open Systems
SoCal
Mission Cloud Services
SADA
Taboola
Toronto
360insights
Property Vista
SADA
Washington D.C.
Aledade
MPOWER Financing
RegScale
This company offers more than great "perks"; it successfully unlocks employee potential through a shared mission and sense of community, inspires performance, and rewards contributions at every level of the tech team. Recipients of this award have an exemplary tech work culture (both in the office, remote, or both!) that actively promotes technical creativity, diversity, inclusivity, learning, and meaningful recognition.
Atlanta
Built Technologies
Intradiem
Taboola
Boston
Circle Internet Financial
DoiT
EngageSmart
Hopper
Muck Rack
Nexthink
SmartBear
The Predictive Index
Veracode
Zebra Technologies Corporation
Chicago
Atomic Object
Muck Rack
Q-Centrix LLC
Reverb
SpotHero
Dallas
Circle Internet Financial
CrateBind
Launch Potato
LTK
OneDay
New York
CoachHub
Launch Potato
Muck Rack
PerformLine
Prescriptive Data
SpotHero
StrongDM
Tackle.io
Teachable
The Lifetime Value Co.


Philadelphia
Circle Internet Financial
FullThrottle
NeuroFlow
Odessa
Roundtrip
San Francisco
Actian Corporation
Armorblox, Inc.
Avenue Code
Branch Metrics
CircleCI
Hint Health
Lattice
Luminous Computing

(Continued)
Modern Treasury
MyVest
tray.io
Uniphore
Yugabyte
Zebra Technologies Corporation
Zoox


SoCal
Boingo Wireless
Circle Internet Financial
Daversa Partners
DISQO
FloQast
Mission Cloud Services
Revive Real Estate
Vincit
Vitalacy
Vydia
Toronto
360insights
Cohere
Fellow

Orium (formerly Myplanet)

SpotHero
StackAdapt
Sun Life
Tucows
Wattpad
Zebra Technologies Corporation
Washington D.C.
Aledade
FiscalNote
Morning Consult
Ostendio
Research Innovations, Inc.
Catch Up on the 2021 Timmy Awards
Hosted by Entrepreneur and 5 time TEDx speaker Dan Ram, relive the 2021 Timmy Awards whenever you'd like on demand!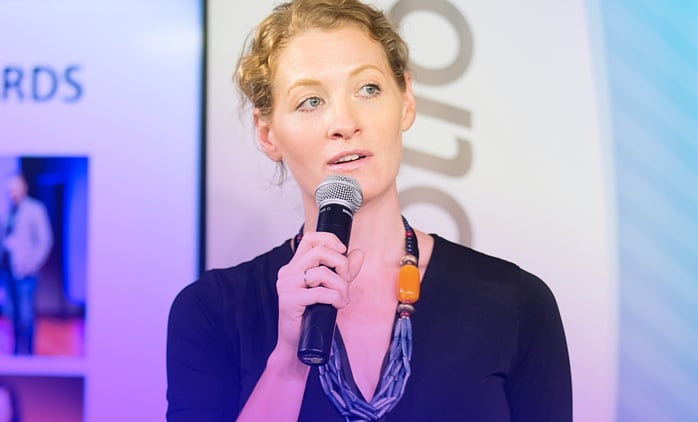 The 2022 Best Tech for Good Award shines a light on the people and organizations leveraging technology to make the world a better place. This award recognizes a product, service, or individual using tech to tackle today's most pressing social, global, and environmental challenges. Winners of this category successfully answered the call to serve, harnessing the power of technology to organize solutions, improve quality of life, and help our communities adapt to a changing world. Recipients will be honored for their outstanding efforts to give back, and lift people up, when they need it the most.
Atlanta
Clean Hands - Safe Hands
Eminent Future
OneTrust
Boston
C. Light Technologies
Divert
Intus Care
Outcomes4Me
RaySecur
Chicago
Active Campaign
AmOpportunities
Avant LLC
Evive
Evozyne
Exponent Health
mRelief
NowSecure
Q-Centrix LLC
Sesame Solar
New York
ActiveFence
Amogy
Biz2Credit
CoachArt
Deduce
Fusemachines
H1
HairDays
Inclusive Web
Teachable
Philadelphia
HealthVerity
NeuroFlow
Phenom
San Francisco
Booster
Brightline
CoachArt
Goodcall
HackerOne
Hayden AI
Hourly.io
Lilt, Inc.

(Continued)
Little Otter Health
Medable
Neolth
Reejig
Saildrone, Inc
Trailhead/Salesforce
Unison
SoCal
Altro
Breathe Suite
CoarchArt
Epirus
Ethos Tracking
Grindr
NEP
Paper
Parsec Automation Corp
Veritone, Inc.
Toronto
ROCK Networks
Top Hat
WeavAir
Washington D.C.
Bonterra
Citizen Data
Deque Systems, Inc.
Epirus
Indigov
Best Tech Enterprise Employer
The Best Tech Enterprise Employer award celebrates an enterprise-level employer that fosters technological growth, inclusion, and invention at all levels. Whether marked by a high volume of tech hiring, impressive retention rate, world-class employer satisfaction ratings, or unanimous approval of leadership – top enterprise employers go above and beyond to keep their tech talent engaged. Recipients of this award leverage cutting-edge technology tools, encourage creative thinking, champion professional development, and promote diversity, equity, and inclusion.
Actian Corporation
Blackbaud
Cat Digital (Caterpillar Inc.)
Custom Ink
Fivetran.com
LTK
SmartBear
Sun Life
Tebra
Zoox
Looking for more helpful content like this? Join the Tech in Motion community to be the first to know about upcoming tech events, our latest articles and jobs, plus exclusive opportunities to get involved!