In first ever North American and virtual ceremony, Timmy Awards reveals all winners for 2020 amid speeches from Stephen Shapiro, Adam Cheyer, Founder of Siri, and Bruce Change, Engineering Director at Netflix, recognizing the best workplaces for tech professionals, including Nielson Canada and Slalom Build.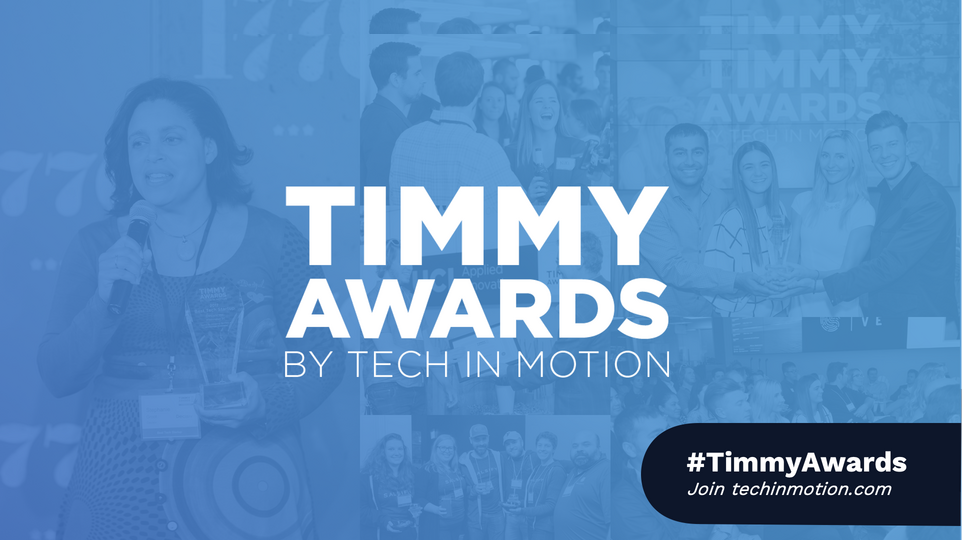 Boston (October 30, 2020) – Last night at an entirely digital ceremony, Tech in Motion announced the North American Timmy Award Winners for 2020, recognizing the top workplaces for tech professionals.
After a fierce competition that included tens of thousands of votes from the tech community to select regional winners and a final round judged by an expert panel of industry leaders, the first North American Timmy Award winners were announced to a live audience of regional winners, judges and technologists.
Those recognized last night for their contributions to the tech community are: Valqari, Best Tech Startup; Ro, Best Tech for Good; Cetaris, Best Tech Work Culture; Slalom Build, Best Tech Enterprise Employer; Nielson Canada, Best Tech Workplace for Diversity; Strategic Innovation Principal Lauren Neal, of Booz Allen Hamilton, Best Tech Manager.
"Even during these very challenging times, these companies have been focused on innovation and making amazing things happen," said 2020 TImmys host Stephen Shapiro during his keynote address.
In a year of unprecedented hardships, Tech in Motion and our founder Motion Recruitment decided to pivot the Timmys to digitally honor those that rose to the occasion so we could celebrate companies and individuals in tech for their resilience, agility and outstanding leadership in today's changing world.
"For five years, we've recognized tech companies and managers that go above and beyond to create great work environments for their tech teams," stated Mandy Walker, Executive Director of Marketing, Motion Recruitment. "In 2020, we knew it was more important than ever to hold the 6th Annual Timmy Awards to highlight those lifting their employees and communities up, but we were still blown away by the incredible response from the tech community and such amazing finalists, speakers and judges."
In addition to master innovator Stephen Shapiro hosting for the evening's event, the ceremony entertained in its newly digital format through notable speakers, like Adam Cheyer, founder of Siri and Change.org, Bruce Wang, Director of Engineering at Netflix, Ian Suttle, Engineering Director at Google, Erin Liao, Vice President, E2E 5G Systems at Ericsson, Shelton Banks, CEO of re:work training and Josh Torres, Chief of Staff at Out in Tech.
The judges who lent their expertise out to select the winners in the final national round of the Timmys, a new addition to the awards program for 2020, are an impressive group of industry leaders: Nirmal Srinivasan, Software Engineering Director at PayPal, Dr. Anita Jindal, Senior Director of Engineering at VMware, Kapil Agarwal, Engineering Director at Salesforce, Abdul Munda, Head of Engineering at Slack, Freddy Stanley, Diversity & Inclusion Program Manager, Oracle, Michael Kinnavy, Head of Global 5G R&D at Nokia, Anastasia Simon, Managing Director of Shadow Ventures, Harry Hurst, CEO of Pipe, Benjamin David Novak, Angel Investor at Delaware Crossing Investor Group, Erica Van, Venture Capitalist from Charles River Ventures.
Highlights from the Timmy Awards Ceremony:
Stephen Shapiro's opening talk on finding innovation in all places – including how the ATM almost failed as an invention – because

"It's kind of fun to do the impossible."

Montages of regional winners showcasing their culture and what each award means to them

Adam Cheyer's presentation of the Best Tech Startup award: "I believe that entrepreneurship is the single greatest source for innovation and positive change in the world."

"Every day I'm so amazed by the enthusiasm, creativity, and determination to disrupt- with fearless energy- coming from all the talent around me." - Erin Liao, Best Tech Enterprise Employer Judge & Award Presenter

"A 2020 Best Tech Manager personifies leadership, innovation and positive influence." - Ian Suttle, Best Tech Manager Judge & Award Presenter
In addition to extending the 6th annual regional awards to include the first-ever North American awards following the usual Regional Winner awards, this year saw the addition of two new awards recognizing "Tech for Good" and "Top Enterprise Employers" to help highlight companies creating opportunities and providing employment when the tech community needed it the most.
The complete list of awards and 2020 Timmy Awards Regional Winners can be found here.
Although the Timmys are over, Tech in Motion will close out 2020 with a panel featuring all North America Timmy Award winners as they discuss challenges, solutions and wins during this unprecedented year and what it took to become a Timmy Award Winner. To relive the ceremony or catch up if you missed the live premiere, you can catch the regional winner montages, keynote by Stephen Shapiro, and presentations by other judges from Netflix, Google and more on Tech in Motion's Youtube channel as well as below. For more information, visit techinmotion.com.