Your local tech communities and peers have spoken. After an outpouring of tens of thousands of votes, our Annual Timmy Awards is proud to announce this year's Regional Award Winners for their resilience, agility and exceptional leadership in 2020.
Elected to represent their cities as this year's "Best in Tech", Regional Winners will go on to contend for the National Timmy Award honors, scored by renowned judges and reserved only for companies and tech leaders who have proven to be the best workplaces for tech professionals in North America.
Among the speakers and judges for this year's awards is co-founder of Siri and Change.org, Adam Cheyer, Erica Van of Charles River Ventures, Bruce Wang, Director of Engineering at Netflix, and Nirmal Srinivasan, Software Engineering Director at Paypal. Tune in on October 29th as we announce winners for the coveted six tech award categories, selected from over 500 nominees across North America.



Best Tech Startup
---
This award recognizes a startup built by forward-thinking leaders with a product or service that aims to disrupt the market. A 2020 best tech startup exemplifies agility, innovation and resilience, as well as an ability to foster an outstanding work environment, even in trying times. The below winners have successfully earned a major funding round, a recent product launch, a successful business pivot or another ground-breaking development entirely. All have identified what it takes to succeed in light of today's challenges.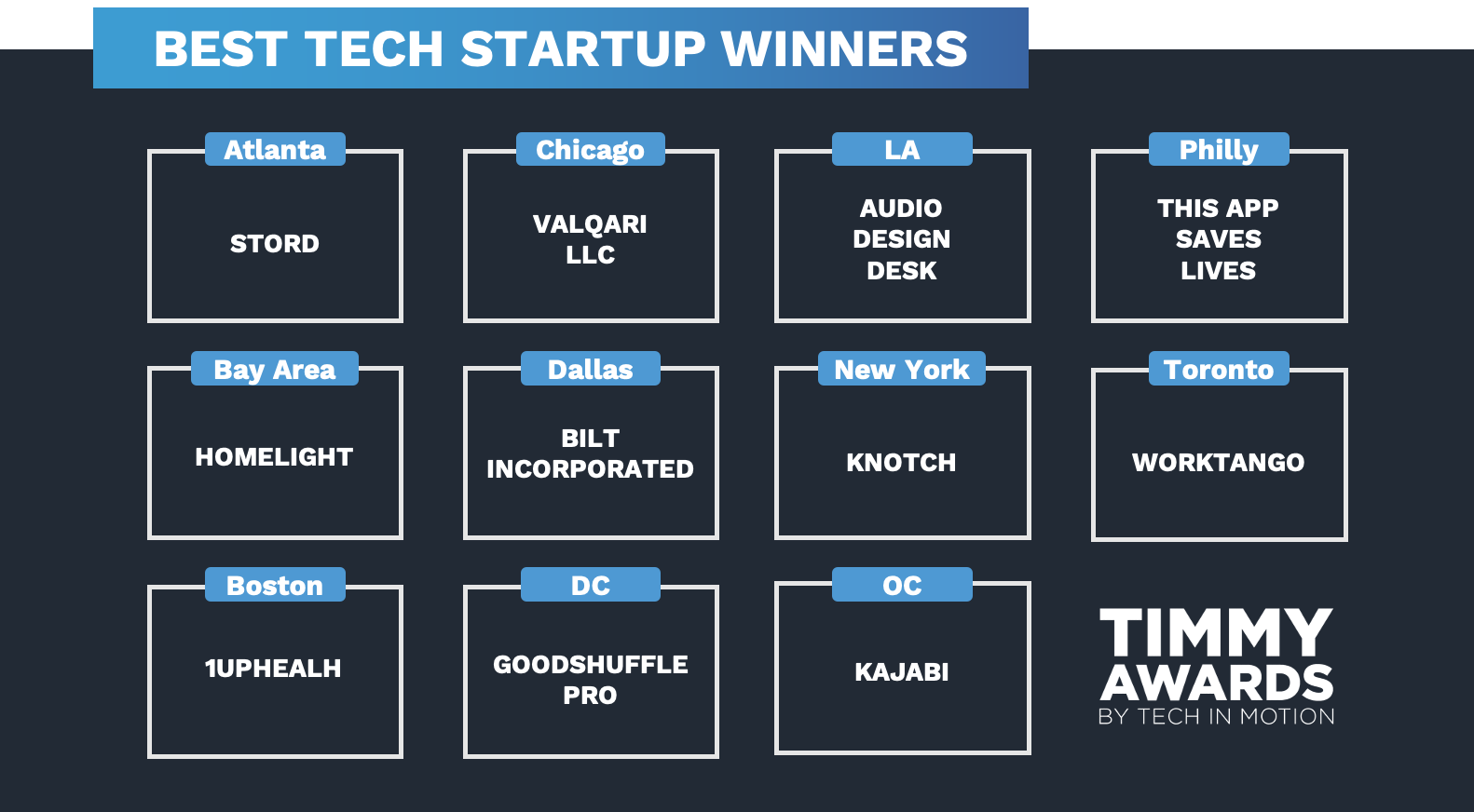 Best Tech Manager

---
A 2020 Best Tech Manager personifies leadership, innovation and positive influence. This award celebrates technology leaders and visionaries who go beyond the requisite duties of a manager to empower their team in a changing world. The below winners have proven to promote career growth, ensure a great team culture, inspire performance and successfully lead their team through unexpected territory, all while ensuring the highest quality product and/or service.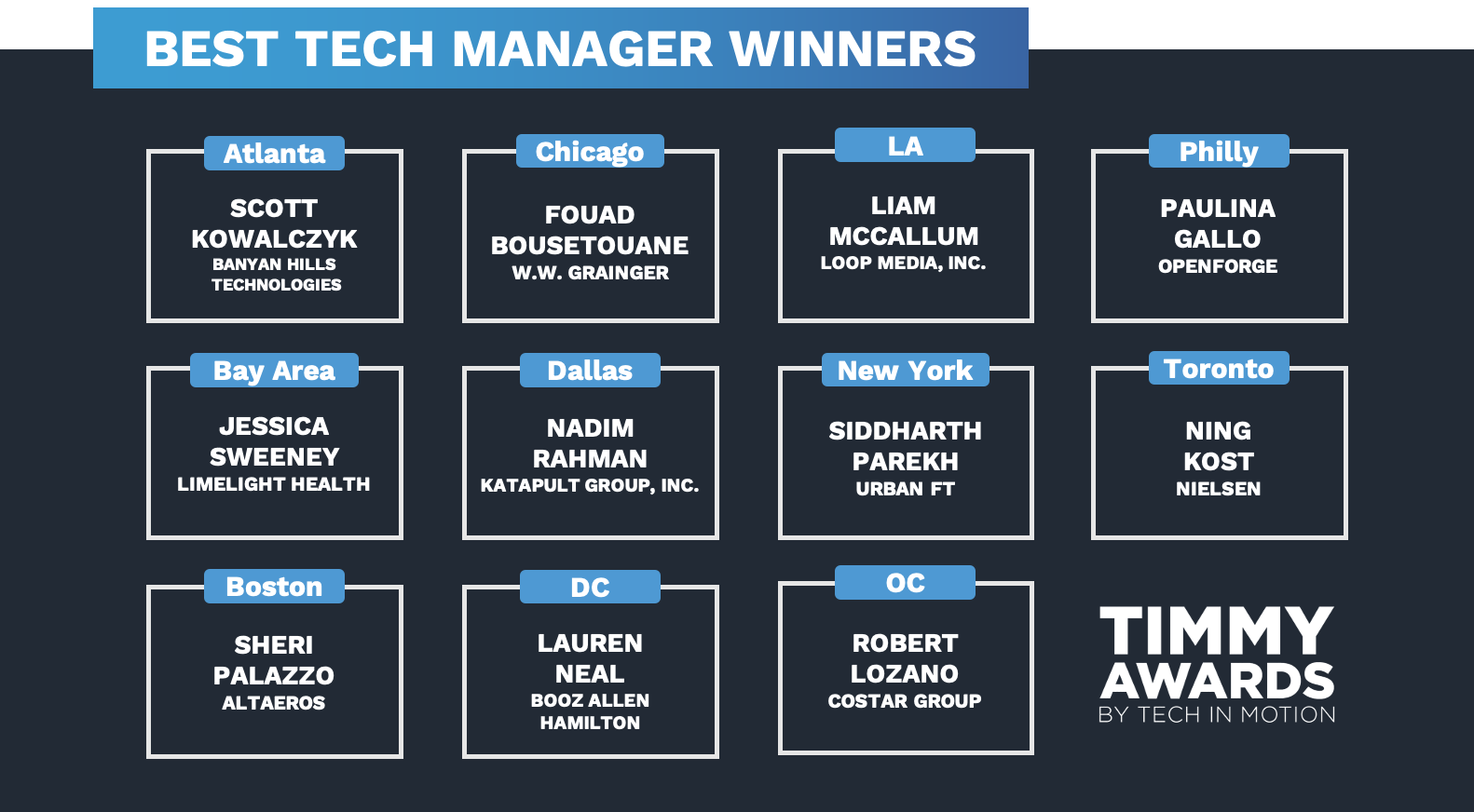 Best Tech Work Culture

---
The below winners offer more than great "perks"; they successfully unlock employee potential through a shared mission and sense of community, inspire performance and reward contributions at every level of the tech team. These award winners have an exemplary tech work culture, both in the office and remotely, that actively promote technical creativity, inclusivity, learning and meaningful recognition.



Best Tech Workplace for Diversity

---
Recipients of this award are determined to build and sustain an inclusive culture from the top down, encouraging employees to bring their authentic selves to work every day. This category celebrates companies with active strategies, programs and initiatives in place to ensure a diverse and inclusive tech work culture. The below winners have proven to implement strategic hiring practices, explore and celebrate team member differences, encourage diverse thinking to produce an innovative product and/or service, and promote diversity at all levels of leadership.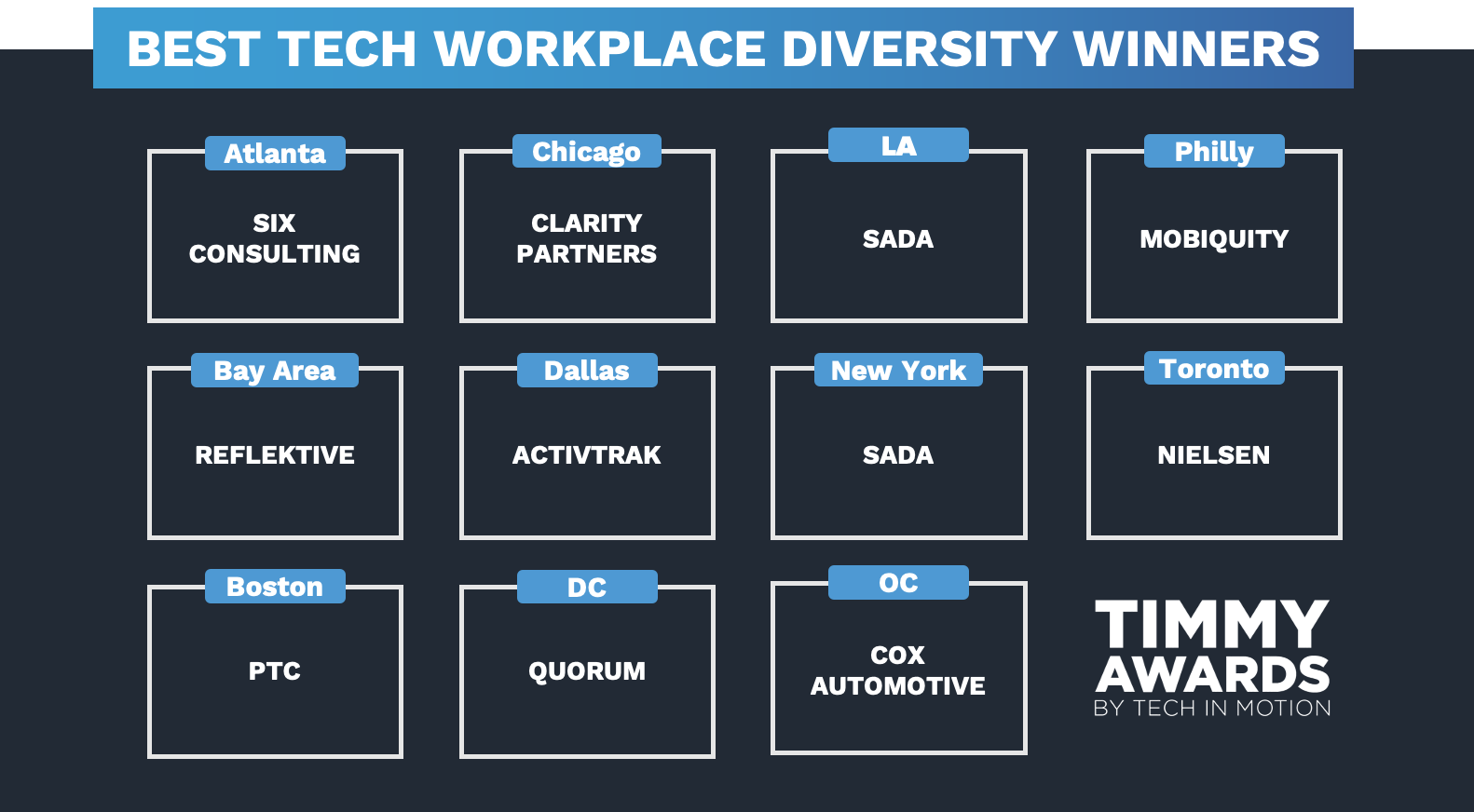 Best Tech For Good

---
New to 2020, the Tech for Good Award recognizes those leveraging technology to connect, support, inform or lift up our communities amid current global challenges and uncertainties. Whether through a product or service, the below winners have successfully answered the call to serve, using technology to organize solutions, improve quality of life and help others adapt to our current reality. Selected companies are honored for their outstanding efforts to give back, and lift people up, during such unprecedented times.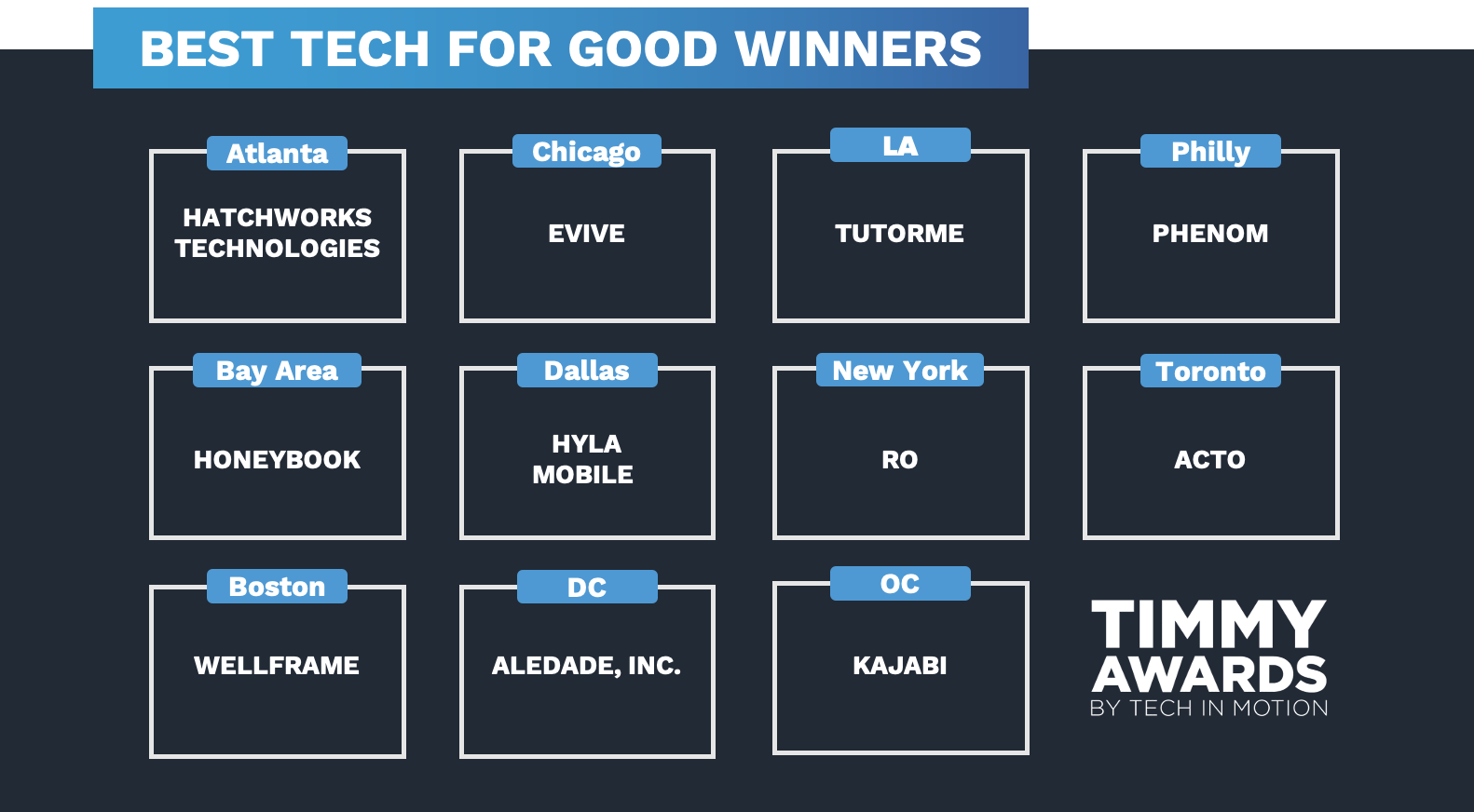 Celebrate with us at the Timmy's! This year's virtual ceremony, complete with surprise guests and entertainment, will take place on October 29th - companies and tech leaders will be able to engage and be recognized from just about anywhere. With speeches by winners, words from our impressive panel of judges and much more, you'll want to be in attendance for one of the most expansive celebrations of tech in the nation!
Questions regarding the 2020 Timmy Awards process or how you can get involved? Contact us Timmyawards@techinmotionevents.com. The Timmy Awards were created in 2014 by Tech in Motion, a North American event series that has connected local tech communities together to meet, learn, and innovate for almost a decade.